About Us
Operations
Water Quality Monitoring
Company Profile
The Macao Water Supply Company Limited

Established in 1935, The Macao Water Supply Company Limited is a private enterprise.
In 1985, Macao Water is owned by a joint venture named SUEZ NWS Limited (formerly known as Sino-French Holdings (Hong Kong) Limited) formed by French-based SUEZ ENVIRONNEMENT (formerly known as Lyonnaise des Eaux) and NWS Holdings Limited from Hong Kong. The joint venture became the major shareholder by holding an 85% of equity in Macao Water and has signed a 25-year concession contract of public water supply service with the then Macao-Portuguese Government in the same year. The superb water supply service during the period has earned the company a renewal of the "Extended Contract for the Concession of the Public Utility Service of Water Supplying in the Macao SAR" in 2009 -- valid for 20 years till July 2030.
Our Vision
To contribute to the growth and prosperity of Macao by building strong, mutually beneficial relationships with our customers and creating values to all our stakeholders.
Our Mission
●  Ensure the continued supply of quality drinking water that meets or even surpasses European standards
●  Improve customer services by providing them in a sustainable and cost-effective way
●  Remain conscious of our environmental and social responsibilities
●  Build a highly qualified, motivated and committed workforce, provide a safe and pleasant workplace, and consistently invest in our intellectual capital
●  Involve our stakeholders to increase mutual values through better management, technology and supporting services.
Our Values
●  Social responsibility
●  Ethics
●  Respect for environment
●  Value creation
●  Integrity
●  Customer focus
●  Employee development
Ethics Charter and Guide
●  Ethics in Commercial Relations Practical Guide (July 2019)
---

SUEZ
SUEZ (Paris: SEV, Brussels: SEVB) supplies drinking water to 92 million people, delivers wastewater treatment services to 65 million, collects waste produced by almost 50 million, recovers 14 million tons of waste each year and produces 5,138 GWh of local and renewable energy. With 80,990 employees, SUEZ, which is present on all five continents, is a key player in the sustainable management of resources.
---
 NWS Holdings Limited: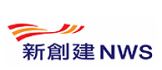 NWS Holdings Limited ("NWS Holdings", Hong Kong stock code: 659), the infrastructure and service flagship of New World Development Company Limited (Hong Kong stock code: 17), operates businesses in Hong Kong, Mainland China and Macau. Its Infrastructure portfolio includes Roads, Energy, Water and Ports & Logistics projects. Its Services portfolio comprises Facilities Management (the management of Hong Kong Convention and Exhibition Centre and Free Duty), Construction & Transport (construction, bus and ferry services) and Strategic Investments.
---
SUEZ NWS Limited:

In the original agreement signed by SUEZ Asia and NWS Holdings Limited (NWS), each party owns 50% stake in the major shareholding company "Sino-French Holdings (Hong Kong) Limited". On January 10, 2017, a new agreement has been signed between the parties in order to expand the scope of the longstanding partnership. Under the new agreement, "Sino-French Holdings (Hong Kong) Limited" was renamed as "SUEZ NWS Company Limited"(SUEZ NWS), in which SUEZ Asia takes full management of SUEZ NWS with a 58% stake, while joint venture partner NWS holds the remaining 42% indirect stake. The new agreement encompasses the complete business portfolio of SUEZ in the Greater China region, including Water, Recycling and Recovery, Treatment and Consultancy. The development of the group's businesses in Mainland China, Hong Kong, Taiwan and Macao will be under a single, unified management model.
---
Top